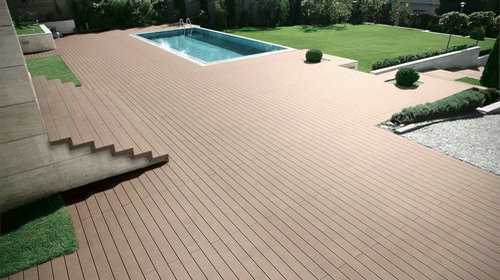 Composite Decking and Cedar Siding, Value and Appearance
Composite decking is a man-made building product that consists of a mix of recycled woof, and recycled plastic. One of the main reasons that composite decking is quickly growing in popularity in the market today is because it has a longer life span, and lower maintenance, than wooden decks. Apart from these obvious benefits, composite decking has the added advantage of looking like hardwood, adding to the aesthetic appeal.
One of the major benefits of having a composite deck is that it is slip-resistant, and splinter-free. Along with that, you don't need nails or screws to put through the deck; making this composite deck safe if you wish to walk around with no shoes on as well.
Another benefit of composite decking is the fact that it is easy to maintain, and requires occasional cleaning. Apart from this, you don't need to paint, stain, or seal it, which make this a cheaper alternative to other decks as well.
Composite decking has high resistance to mould, splinters, and rots; which makes this perfectly suitable for almost all environmental conditions, and thus, will last much longer than wooden decks. If maintained well, composite decks can last for over thirty years.
Because there are no nails or screws being used on the decks, the decks have a smooth surface – making it visually pleasing, and composite decks can match the appearance of hardwood as well.
Although composite decks are more expensive than wooden decks, they turn out to be cheaper in the long run. Because composite decks don't require as much money for maintenance as a wooden deck does, composite decks do end up being more economically feasible.
Having cedar siding is an advantage as well – apart from giving your home a beautiful exterior, added protection, and added value on the home market; cedar has properties that make it durable and resistant.
Cedar is resistant to rot, bacteria, fungi, and mildew – making this wood strong and easy to maintain. Cedar sidings are resistant to splitting and swelling as well, making it tough and durable, and thus, will last longer than siding made from other material.
Cedar siding makes an amazing insulator as well, and will allow you to save energy on your appliances throughout the year, by trapping warm air in the winter, and keeping in cool air during the summer.
Apart from all of these visible benefits, cedar siding also manages to look very attractive on most homes, and is regarded to be a traditional siding choice.
Everything Exterior is the ultimate place for all your home needs, and offers a full range of material that can be used for any part of your home – from siding to decking to interior wall systems, and everything in between. Apart from providing multiple options to choose from, Everything Exterior provides in-house staff to help you with your choices, and to make sure that the material you choose will go well with the overall aesthetic of your home. The experienced and trained staff will make sure that the material is installed correctly, and will provide professional advice at no extra cost – guaranteeing absolute customer satisfaction.