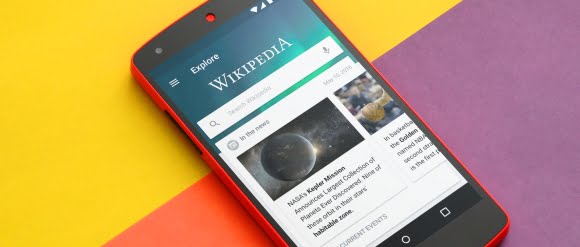 Android app now offers new ways to browse Wikipedia and find trending, recommended articles
Wikipedia has been there for the past fifteen years when you needed to search a quick fact, research a topic, or settle a bet. But what about when you're looking for something interesting to read on the metro, or have a few minutes to browse while you're on break?
The Wikipedia app for Android has been redesigned to not only help you find the information you need now, but also to provide interesting, recommended Wikipedia content to dive into when you have a bit of spare time.
The Wikimedia Mobile Apps team has redesigned the home screen of the app to show you an 'explore feed'1 of recommended images, interesting articles, in the news content, articles based on what you've read, and more from Wikipedia. Each item in the feed presents content for you to preview, skim, and tap to learn more.
Here are some of the features included in the feed:
In the news: Current international news stories, with links to the Wikipedia articles relevant to each story.2
Trending articles: The top five most read articles of the day.
Featured picture: A bold image selected every day by the Wikipedia editor community.
Featured article: A featured article on Wikipedia picked daily by editors.2
Because you read: Recommended articles based on what you've read lately on Wikipedia.
Continue reading: An option to continue reading articles that you started, but haven't finished reading yet.
Today on Wikipedia: This card takes you to the Main Page of the Wikipedia of your preferred language.
Randomizer: A random Wikipedia article.
A more prominent Search bar at the top of the feed, with integrated voice search.
As you scroll further down in the feed, you will see featured content from previous days—yesterday's trending articles, yesterday's featured picture, and more. Don't want to see a certain card? Simply swipe it away to hide it.
For each feature shown in the feed, you also have the option to share the article using your favorite social media apps, or to save the article on a personal reading list, available even when you're offline.
We're also excited to tell you about how the explore feed retrieves the content that it shows you. In addition to building the actual feed in the app, we have also built the back-end service that brings together and provides this content.
We have made this service available to anyone, anywhere to reuse, remix, and build from, and not just on our Android app: we've structured the data provided by the service in a simple format that can be used by other apps and web applications. This means that with a single web request, you can now receive all the great content shown in our feed and use it in your own apps!  If you're interested in learning more, please check out the documentation for our service.
You can find the app on the Google Play store now, and, as always, we welcome your feedback!
["source=wikimedia"]