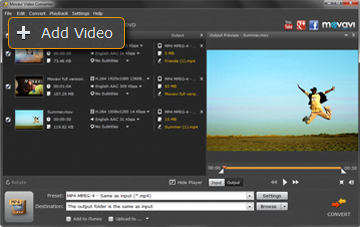 Converting MP4 to MOV with the Movavi Video Converter Review
In most cases you should have no problem when it comes to the compatibility of your MP4 videos – and its compression is often regarded as being top notch too. However if you want to specifically optimize your videos for Apple devices then you may want to switch the format to MOV – particularly if you intend to carry out high quality video editing and you'd rather not use a compression-based format.
To convert your videos from MP4 to MOV you'll need a video converter. While there may be several options out there, it would be a good idea to try the Movavi Video Converter out for size right off the bat seeing as it has a strong reputation for being an easy and yet extremely effective video converter.
Essentially, the Movavi Video Converter is the perfect blend of powerful and flexible features along with an intuitive and user-friendly approach. It is capable of so much – and although it may be called a 'video converter' it is actually able to also convert image and audio files between different formats as well.
It doesn't get easier to convert media files than with the Movavi Video Converter, and if you want to switch your MP4 videos to MOV you simply need to load them into the software, select MOV from the list of formats, and click a single button to start the conversion. In no time your video will be done and saved to the destination folder that was specified.
Part of what makes the Movavi Video Converter so generally appealing however is the fact that if you're ever stuck in a situation where you aren't quite sure which format to convert your video into – you can opt to select the device or platform that you're using instead. With hundreds of presets that cater to various devices and platforms, the software will automatically utilize the ideal format and settings based on your selection.
On top of that you can also use it to perform other handy tasks with your videos, including:
Improving the video quality and correcting common issues with video footage.
Cutting and combining video segments and removing unwanted footage or merging clips together.
Adding customizable text to videos as captions, watermarks, or subtitles.
Creating animated GIFs out of short video clips.
Cropping or rotating the video frame and orientation.
Grabbing screenshots directly from videos.
Extracting the audio from video files.
In a nutshell, the Movavi Video Converter has everything you need to handle most of the common tasks related to videos and other types of media. Once you've used it to convert your MP4 to MOV you should certainly keep it around seeing as it will undoubtedly come in handy sooner rather than later.