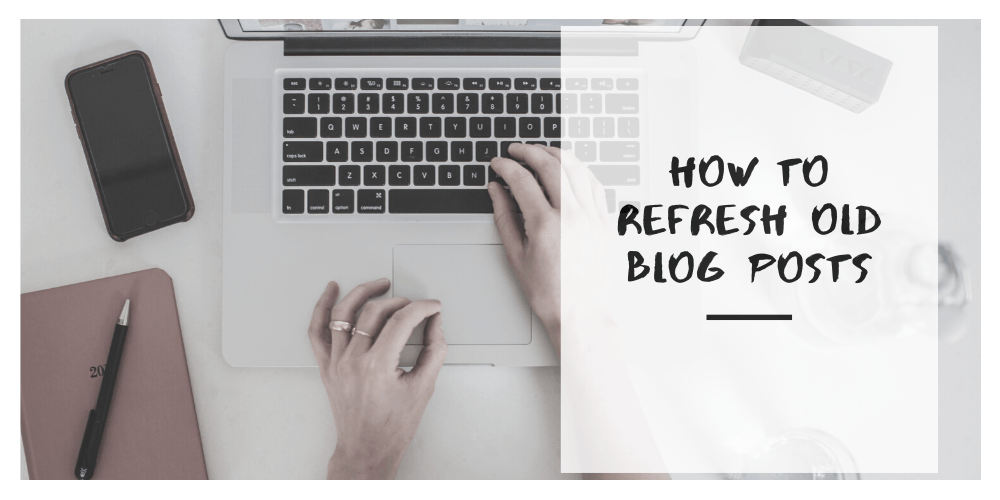 How to Refresh Older Blog Posts
Do you have articles on your company blog that are receiving little to no traffic? What about thin, poorly written articles that were published before you embraced a fully fledged content marketing strategy?
With some rewriting and some simple optimizations, you can make the most of this existing content and turn older blog posts into valuable assets for your website.
Why is Updating Existing Blog Articles Valuable?
Blog posts that aren't receiving views are essentially wasted opportunities. While you could choose to forge ahead with new content and write these older articles off as losses, this is not always the best course of action. In many cases, there are small tweaks you can make to existing content to help it perform better.
Updating old blog posts can help you:
Improve keyword rankings
Increase traffic
Strengthen your brand image
Provide a better experience for readers
Another benefit of refreshing existing content is that it often takes less time than writing an article from scratch. Even if you end up rewriting the majority of the post, you don't need to spend time ideating a new topic. Instead, you're squeezing extra value out of assets the company already has at its disposal.
This process of updating older blog posts is sometimes called historical optimization. Below, we dive into how to choose which articles to refresh, and what steps you can take to breathe new life into these older articles.
Identifying Articles for Optimization
Determining which blog posts you should refresh can be tough, especially if you only have limited resources to dedicate to content writing. Here are a few tactics you can use to prioritize articles for historical optimization.
Consult Your Content Audit
A content audit is a great way to get a holistic view of your existing content and how it's performing. During the audit process, you'll typically organize your content by category and pull relevant data, such as pageviews, time on page and bounce rate. If you've never done a content audit—or it's been awhile—we recommend completing one before choosing which blog posts you want to refresh.
As you look through the findings from your audit, there may be some obvious choices for historical optimization, such as articles that are several years old and don't hold up to your current editorial standards. Not all older articles will be worth refreshing, but by performing competitor research and keyword research, you can determine if the topic has the potential to attract users.
Take a Look at Keyword Rankings
If a blog post is ranking for relevant keywords but is not yet ranking for many keywords on the first page, it may be a good candidate for an update. To find articles on your blog that could be ranking better, use a keyword tool such as Semrush.
Semrush can provide you with a list of organic keywords that your blog is currently ranking for. You can filter these keywords as you wish, but for now, we recommend focusing on keywords that are on page two or beyond. Keywords on page two (positions #11-20) are considered "striking distance keywords." With a few optimizations, ranking on page one for these keywords is generally within reach. Consider refreshing blog articles that are already ranking for this low-hanging fruit.
Review Your Top Articles
Historical optimization isn't just for articles that aren't bringing in traffic. Even your top-performing blog posts will likely start to stagnate after a while. When this happens, it may be time to refresh them.
There are three primary reasons why your top-performing articles may be losing traffic:
You've stopped promoting the content in paid media campaigns or lead nurture campaigns
There is a loss of interest in the topic
Competitors have published newer, better content to that is now outranking your article
When looking for blog posts to refresh, pay special attention to any posts that used to be performing well, but are now experiencing a decline in traffic. A good way to identify this phenomenon is to use Google Analytics to compare traffic between two time periods (e.g., month over month or quarter over quarter). The "% Change" row in Google Analytics will show you how much traffic has increased or declined over that time period.
How to Rewrite a Blog Post: 7 Tips
After you've selected an article to refresh, it's time to start editing and optimizing. Here are seven steps that we like to follow when rewriting existing blog posts. Running through this list can help ensure that your article follows content writing best practices.
1. Check Your Metadata
An essential aspect of updating old blog posts for SEO is to double check that all of your metadata is in place. This includes your meta description and title tag.
Meta descriptions should generally be 160 characters or less, include one of your main keyword phrases and encourage searchers to click through into your article. While meta descriptions do not affect keyword rankings, they can improve your click-through rate.
Next, check if the title tag of the published article is being truncated in the SERPs. Google has recently started generating its own title tags for web pages, but by keeping your title short (65 characters or less) and avoiding repetitive language, you can increase the chances of your intended title tag being used.
2. Add Internal and External Links
Including relevant links within your article helps provide a better user experience by allowing readers to explore supplemental information.
External links to reputable sources can be used to back up your claims and add credibility to your piece. When citing a statistic or research finding, link back to the original primary source whenever possible. You should also provide attribution when referencing an organization's published opinion or recommendation.
If you're updating a blog post that is a few years old, chances are you have published articles on related topics since then. Where appropriate, add internal links to other pages on your website that provide additional information on a given subject. Not only do internal links encourage your readers to stay on-site and explore additional articles—they can also help Google better understand your site architecture.
3. Update Out-of-Date Information
In 2011, Google rolled out an algorithm update that prioritized recent search results. Since then, "freshness" has continue to act as a major ranking factor for content.
Updating one-of-date information is one of the most impactful edits you can make when refreshing an older blog post. To do this, simply review your existing content and look for any statistics and facts that can be updated with more recent information. If you originally cited a report that is a few years old, see if you can find a report published within the last year that conveys a similar finding.
In addition to updating out-of-date or inaccurate information, you'll want to be sure to update any broken links. These broken links make for a poor user experience and may also hurt your SEO.
4. Improve Readability
Is your existing article text-heavy and difficult to skim? There are a few easy tweaks you can make to improve the readability of your article:
Ensure your H1 tag (headline) accurately describes the article
Break up the article with descriptive subheadings (H2s, H3s, etc)
Present information in bullet point or list format
Add images and visuals
If you have the time and resources available, you may even consider creating an infographic to accompany your article. This can be a great way to help your readers visualize data. Plus, it could benefit the performance of your article in the long run. Quick Sprout found that over the course of a year, infographic posts received 35.1% more traffic than regular blog posts.
5. Incorporate Target Keywords
In some situations, you may find that the keywords you targeted when you originally wrote the article are no longer the best fit. Thankfully, rewriting an old blog post presents an opportunity to rank for new keywords.
Before you start writing, perform some basic keyword research to determine which keywords you should be targeting. These may be keywords that the article is already ranking for (perhaps on page two or beyond), or it may be brand new keywords that are not yet incorporated into the article.
Once you've selected a few keywords to target, try to naturally work them into your copy and subheadings. Keep in mind that semantic keywords can be just as valuable as exact-match keywords, especially if using an exact-match keyword makes your copy sound unnatural.
6. Up Your Word Count
HubSpot states that the ideal length for a blog post is around 2,100-2,400 words. However, they acknowledge that shorter posts can also perform well, especially if they are following other SEO best practices.
In our experience, it usually takes about 1,000 words to adequately cover a topic. If you really want to spruce up your older blog post, it may be worth putting in the extra time to get the article to 2,000 words or more.
That said, there's no point in adding words just for fluff. To determine the ideal length for your refreshed article, take a look at competitor articles on the same topic. How long are they, and what do they cover? Aim to cover the topic in more detail than your competitors, without adding filler.
7. Provide a Clear Call to Action
A call to action (CTA) is a prompt that encourages your reader to take an additional action. Depending on the intent of the article, this may be filling out a contact form, downloading a gated asset or making an online purchase.
As a final step of refreshing an existing blog post, we recommend ensuring that the piece has a strong CTA. This CTA should clearly and succinctly explain what the reader should do after they finish reading the article. Should they explore other articles on your site? Should they get in touch to learn more about the topic? Don't leave your reader hanging.
Measure the Success of Your Updated Blog Post
Updating older blog posts doesn't end up when you hit "publish." After the update is live, you'll want to make sure you're monitoring the performance of the article. Over time, you'll likely see an uptick in keyword rankings and traffic. If not, it may be time to make additional edits.
Getting the most out of blog post refreshes requires patience, but the results can be well worth your time.
["source=investisdigital"]