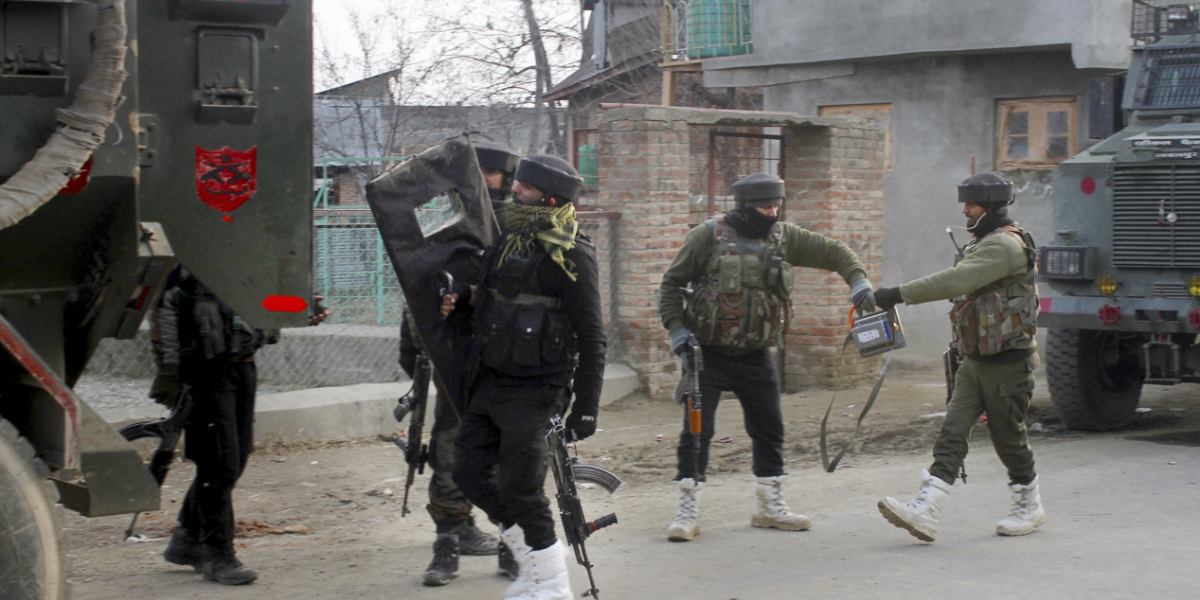 J&K Police Summon Local Journalists for 'Incorrect Reporting' on Pulwama Encounter
At least four journalists have been summoned by the J&K Police in connection with an ongoing investigation into the weekend encounter in south Kashmir's Pulwama district, in which a top Jaish-e-Mohammed (JeM) militant commander was gunned down along with his associates on January 30, Sunday.
Officials said Majid Hyderi, a prominent TV commentator previously associated with one of Kashmir's largest circulated English dailies, and visual journalists Kamran Yusuf and Vikar Syed, who work with online news portals NewsClick and Free Press Kashmir, respectively, were questioned by the police in Pulwama on Monday.
The fourth journalist, Fahad Shah, editor of the Kashmir Walla magazine who has been questioned in the past by police over his work, is set to face the investigators on February 1, Tuesday. Fahad also writes for international publications.
Sources said the three journalists were "profiled" and briefly quizzed about their work at the office of senior superintendent of police (Pulwama) and Pulwama police station on Monday, although they were held by the police for the whole day. In the evening, the three journalists were allowed to go home. Sources said they are likely to face further questioning.
A local news gatherer reported that the journalists were questioned for "incorrect reporting" of the overnight encounter in Naira village of Pulwama in which two Garud commandos, including an officer, were injured. Zahid Ahmad Wani, who joined JeM in 2017, was gunned down in the encounter along with a suspected Pakistani militant, Kafeel Bhari alias Chotu, and a local militant, Waheed Ahmad Reshi, officials said.
Inayat Ahmad Mir, son of the owner of the house where the gunfight took place, was the fourth person killed in the encounter. In an official statement, the police said Inayat had joined the militant ranks "recently", although the statement didn't specify any police record of him. His family had staged a protest outside the police control room (PCR) in Srinagar on Sunday, demanding the body of their son who they claimed raised sheep for a living. Mughli Begum, mother of Inayat, had told the media that her son was "innocent".
The claim of Inayat's family was reported by local news portals in Kashmir, including Free Press Kashmir, which ran a reel on its Instagram page, stating the contradictory claims of the family and the police, and Kashmir Walla, which carried a story on the encounter with both versions.
However, the case took an interesting twist when a video of one of the five sisters of Inayat, apparently being quizzed by policemen, went viral on social media. A married woman in her early 30s, Inayat's sister is seen contradicting the claims of her family members that her brother was "innocent". The woman is seen biting her lips and looking around with startled eyes as a group of male cops question her about the encounter.
According to police interrogation rules, a female suspect has to be questioned in the presence of female police officials but Inayat's sister is purportedly seen to be surrounded only by male police officials who ask her short, pointed questions about the encounter.
"They (militants) came at 10 pm on Thursday," the video shows Inayat's sister responding to a police official who is not seen in the video. "There were three of them." Then, a second, unidentified police official asks her to narrate the happenings when her family was asked by the security forces to come out of the house on Saturday evening after the encounter broke out.
"We two sisters and our mother came out. Father was in Trichal (an adjoining village)," the woman tells the investigator, swaying her body from left to right. "He (Inayat) was with them (militants). I couldn't muster the courage to tell you (the truth)," she continues, "He didn't agree to come out. He said he would die with them (militants)."
The 58-second video has been filmed at an unspecified location, although it appears to have been shot in a room populated by at least three to four police officials. The video was also shared by the Kashmir Zone Police's official Twitter account and other official accounts.
Speaking with reporters on Sunday, Inspector General (IG) of Police (Kashmir) Vijay Kumar said Inayat was "best example" of hybrid militancy which has emerged as a major challenge for security forces in Kashmir. Rejecting the family's claims, he said there are many people in Kashmir who are affiliated with militants but they are not listed in police records.
"When they get killed in encounters, we look into their digital data, such as laptops and mobiles, to see their level of involvement," Kumar said, adding, "Inayat was given a chance to surrender. His family asked him to come out but he kept firing at the security forces. He was roaming around with dreaded terrorists like Zahid and the Pakistani [militant] who were killed in their house, so we are filing a UAPA case and the other family members will also be booked."
After the encounter, a first information report was filed at Pulwama police station under Section 307 (attempted murder) of Indian Penal Code, Arms Act and Section 16 (punishment for terrorist act), Section 18 (punishment for conspiracy), Section 20 (punishment for being a member of terrorist organisation) and Section 38 (offence relating to membership of a terrorist organisation) of the stringent Unlawful Activities Prevention Act.
On Monday morning, the four journalists received phone calls from the officials at Pulwama police station, who asked them to appear before the station house officer for questioning over "incorrect reporting" of the encounter. Speaking with The Wire, Majid, one of the four journalists, said he was questioned over a news story that he had shared on social media.
"I had simply shared a story which was published by a local news portal. I didn't comment on its merits. We are journalists in a conflict zone and in our profession we are required to give space to both sides of the story," said Majid, who was accompanied by his ageing mother to the police station for questioning.
On his Twitter page, Vikar, the Free Press Kashmir journalist, had posted a photo of the room in the house where the encounter took place with the caption: "Locals visiting the house of 17 year old Inayat Ahmed in Naira village of Pulwama. Family members and relatives of Inayat have said that he was a civilian, while police has said that he was a hybrid militant."
Kamran, who was also questioned by the police on Monday, had posted on his Twitter timeline a 12-second video, showing the same house. In 2017, the National Investigation Agency had arrested him on suspicions of "stone pelting". He spent six months in a jail in New Delhi before a court granted him bail, ruling that there was no evidence to put him on trial.
The Wire tried reaching out to officials for comment. "Ask him" was all IG Kumar said over WhatsApp when asked about the summons against the journalists. Senior superintendent of police, Pulwama, Ghulam Hassan Wani, refused to divulge details, saying the IG had already spoken on the issue. "I have nothing more to add," he said, and hung up the phone. The story will be updated if and when they respond.
Free speech activists argue that the police summons underline the atmosphere of fear and pressure under which journalists are carrying out their professional duties in Kashmir. According to global organisations and rights advocacy groups, press freedom has eroded significantly in Jammu and Kashmir after the reading down of Article 370 and local journalists are routinely questioned by officials and harassed for their work.
International Press Institute (IPI), a global network of editors and journalists, said the police summons highlight the intensification of "pressure, harassment and intimidation of independent journalists" in Kashmir as the government "attempts to control the narrative."
"Summoning journalists for 'incorrect reporting' is shooting the messenger for publishing the truth. Adding ambiguous terms like white collar & hybrid militants to security vocabulary widens scope of impunity enjoyed by armed forces to justify encounters," former J&K chief minister Mehbooba Mufti wrote on Twitter.
["source=thewire"]