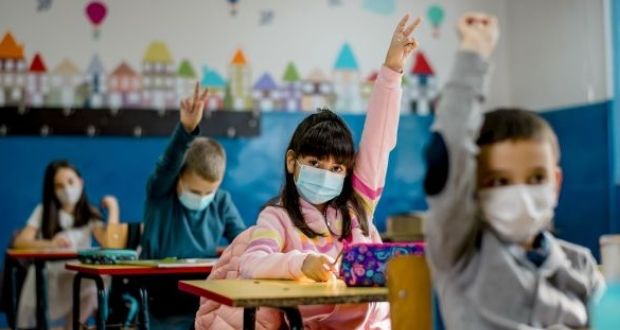 No plans to close schools early before Christmas, says Department of Education
There are no plans to close schools early ahead of the Christmas break, according to the Department of Education.
Some health experts and school principals have suggested that early closure could limit the spread of Covid-19 .
However, a spokesman for the department said the scheduling of school holiday periods are not due to change.
"There are no plans to alter the school break at Christmas. There is no evidence to suggest that extending school holidays has a public health rationale," a department spokesman said.
Primary and secondary schools are due to close for the Christmas break on Wednesday, December 22nd and re-open on Thursday, January 6th.
Dublin City University professor of immunology Christine Loscher said yesterday that closing schools this Friday would minimise children's exposure to the virus, especially in light of the highly transmissible Omicron variant
"This will give a decent circuit breaker and ensure we can open schools in January," she said.
Emergency
Denmark announced last week that it was closing schools early due to the threat posed by the Omicron variant, while the UK government said it will only close schools early in the event of an "absolute public health emergency"
Some principals here, meanwhile, say they expect many parents will opt to keep their children at home next week for safety reasons.
Louise Tobin, principal at St Joseph's Primary School in Tipperary town, said many parents have been contacting the school to see if it will remain open next week.
"I wonder how safe it will be to open next week. There are significant numbers of pupils absent every day. We've nearly 20 per cent out every day. It shows the level of sickness that is out there," she said.
"At the end of the day, parents will make these decisions themselves on whether it is safe to send their children into busy classrooms."
Matt Melvin, principal of St Etchen's National School in Kinnegad, Co Westmeath, said his school is organising its Christmas events this week in case they are advised to close early.
"We're preparing, just in case," he said. "Whatever decision that is taken should be in the best interests of public health and children – but it must be taken quickly."
Linda Dennehy, principal of Scoil Íosagáin Infant School in Mallow, Co Cork, said early closure would be welcomed by many staff and parents.
"It would make a huge difference in terms of safety. We've another week to go, and staff are exhausted. There is a lot of illness going around. This term has been the hardest yet and I worry that we'll have huge burnout with staff and principals," she said.
However, John Weir, principal of St Mary's Parish Primary School in Co Louth, said he has not received many inquiries from parents about early closure.
"I don't get a sense that parents will keep their children at home. The children really want to be here due to the Christmas atmosphere."
Attendance
While school attendance at St Mary's dropped to about 80 per cent in recent weeks, it has climbed back to 85 per cent this week, he said.
Latest figures, meanwhile, show the incidence of Covid-19 among primary school aged children has climbed significantly in recent weeks.
There were 1,321 cases per 100,000 among the 5-12 age group last week, up from 767 per 100,000 four weeks ago.
The Irish National Teachers' Organisation (INTO) has called for the " swift reinstatement" of public health support for primary schools when they reopen in January.
["source=irishtimes"]