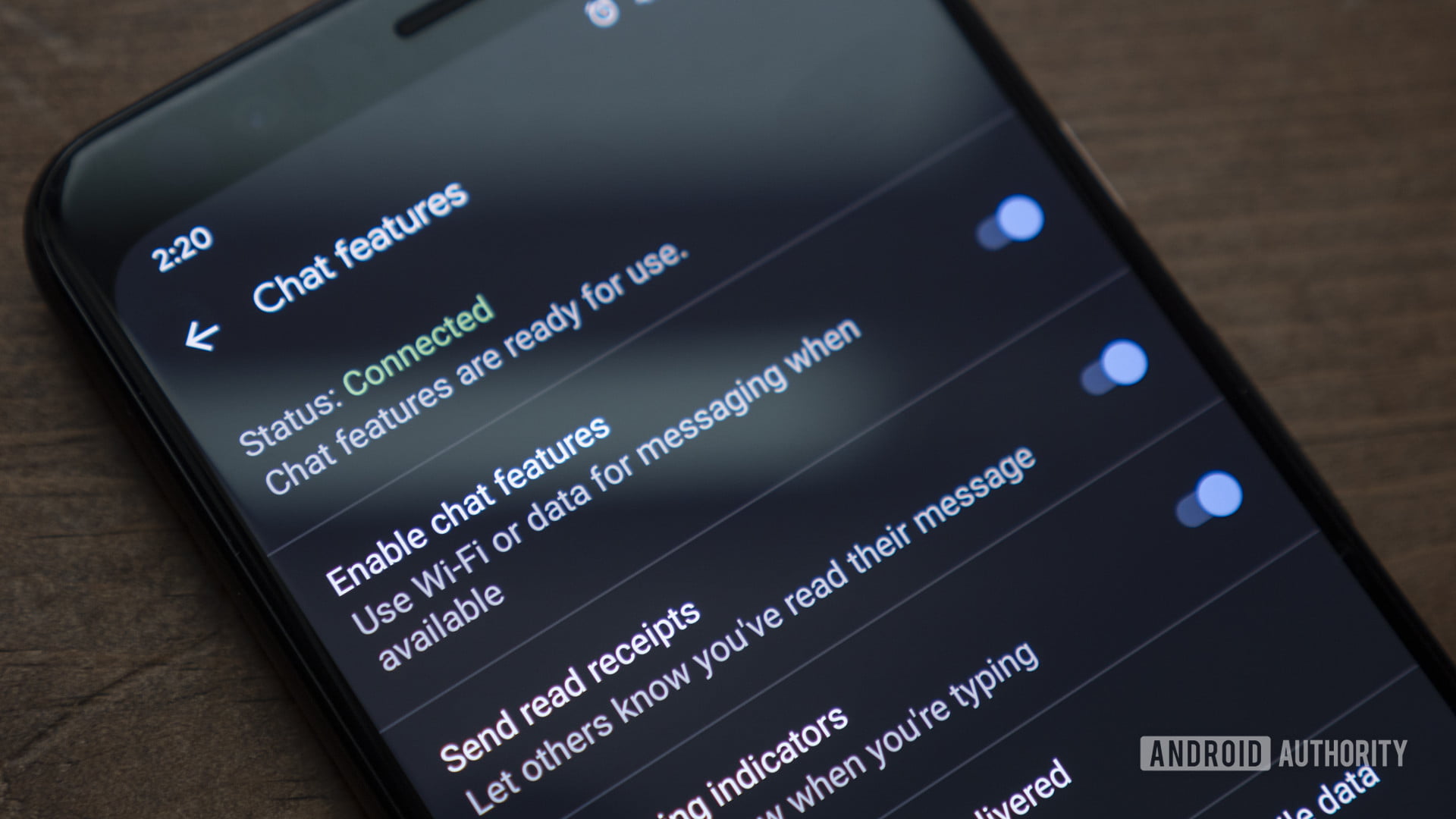 RCS is too little too late, and Google is having a tantrum over a lost battle
A lot of virtual ink has been spilled in the last week about Google's accusation that Apple has been benefitting from iMessage's 'green-bubble bullying.' From the original tweet by Hiroshi Lockheimer, to the quote by the official Android account, the company's stance has remained the same. Google wants Apple to implement RCS and is using a 'take it to the street' approach to force Cupertino's hand.
There's certainly nothing 'new' in Google's arguments; we all understood the situation, but we'd accepted iMessage's exclusivity and stopped questioning it every day. This new public outcry, though, succeeded in putting one more time the spotlight on Apple's tactic and the anti-social behaviors it's implicitly encouraging among US teenagers. It's also the first time Google has been clear about what it'd like to see from Apple: RCS.
The problem, though, is that RCS is an older protocol that does nothing to solve any of Google's problems with messaging.
RCS: Yay or nay?
Why wouldn't Google want RCS? The protocol works with your phone number, is supported natively by (many) carriers, doesn't require you to download or sign up for a specific app or service (technically), and offers several modern chatting features. Typing indicators, delivery and read receipts, rich media and location sharing, group chats, and optional end-to-end encryption are all part of its feature set. And when you don't have a data connection or the other person doesn't have RCS, it falls back to SMS.
In a word, RCS is like SMS, but better. Except that it isn't. Not every operator has enabled it yet. Not all phones support it. Not every implementation is the same — especially in terms of encryption since that bit is optional. And even if you download Google Messages and use the now-supposedly worldwide 'Chat features' there, you're still at the mercy of Google's servers which can go down or become buggy any time. Which they have done rather frequently.
RCS is also completely reliant on your phone number being active when you send or receive messages. This makes it intricately linked to your carrier bill (h/t Ron Amadeo for bringing this into the discussion). If you happen to miss a payment or have an issue with your carrier, or if you live in a country where number portability is difficult or inexistent, your line goes down and so does your ability to use SMS and RCS. This is unlike IP-based chat services where you can connect back at any point in the future, get all of your pending messages, and continue where you left off.
Google Weekly
Calling all Android users: Stay in the know about your operating system with news from Google.
RCS is too late to the chat game
The fascination with SMS is, undeniably, US-centric at this point. The rest of the world has completely embraced IP-based messengers, like WhatsApp, Telegram, Facebook Messenger, Signal, WeChat, and QQ. The shift didn't happen overnight, it's been more than a decade in the making and at this point, if you live outside the US, odds are everyone you know is using one of these apps.
These IP-based apps have made communication easy and as universal as possible. They're cross-platform from Android to iOS (and sometimes Windows, Linux, Mac, and web) and get updated across the world without the need for an operator. Some of them use a phone number to identify you (yes, just like SMS and RCS) but allow portability across numbers; some prefer to rely on a username or email to be more open to anyone. Many of these apps offer end-to-end encryption in all chats — including groups. Many have added voice and video calls, to give you more options to communicate. And all of them are being regularly updated with new features.
The RCS protocol, on the other hand, was announced in 2007 and gets a minor update every year or so. At best (Wikipedia). It's been playing catch-up with messaging innovations from its IP competitors for years and will likely continue to do so. It also requires plenty of partners — carriers and device makers — to get along and implement it.
But RCS's biggest public pitfall in my opinion is one of perception. To use it, you have to use the SMS app. For anyone who's moved on to IP-based messengers, this sounds a little preposterous. The SMS app is where we get all our spam. It's the same app we've mentally associated with 2FA codes and courier delivery notifications, and nothing else.
Talking about going back to the SMS app in 2022 feels a bit like talking about DVD players in 2022. Some people still have one, but very few people are using them. It feels antiquated, like a gigantic leap back in time and space to a technology and interface we've abandoned a long time ago.
Google wasted many chances to do things right
Google had not one, not two, but many, many, oh-so-many chances to get messaging right. Google Talk, Hangouts, Voice, Allo, Chat, Messages, not to mention the countless integrated chat features in other apps (YouTube, Photos, Pay, Maps, and so on). I'm sure I've forgotten dozens more.
For over a decade, the company has been throwing one strategy after the other at the wall, hoping one would stick, to no avail. The whole thing has become a sad joke, to be honest. And even the most ardent Google fans and apologists can no longer convince their entourage to give another Google chat app a try. They've played that 'this is the right one, I swear' card far too many times for anyone to believe them.
And while Google was spinning the messaging app roulette, everyone moved on. Apple users in the US are far too invested in iMessage. Android users across the world moved to IP-based messaging apps. We've all spent more than a decade talking to our family, friends, colleagues, and businesses on these apps. We've formed groups, built a chat history, fought, reconciled, joked, and shared thousands of pics and videos. Messaging apps have transcended the simple 'it's an app' status. They became life. Our life. Alas, Google didn't manage to catch any of that emotional attachment or loyalty.
You can't fabricate this kind of relationship with software. It either grows organically or it doesn't. And for many of us, neither SMS/RCS nor Google first comes to mind when we think about our favorite digital chats with loved ones. Google missed out on being part of this conversation and it can't will itself into the equation just because it'd very much like to.
Say Apple supports RCS…
…What will that change? Not much. Apple could very much give Google what it wants and add support for RCS. Those using Android phones will get a slightly better experience when talking with Apple users. They'll get better-quality media, typing indicators, delivery and read receipts, and potentially end-to-end encryption. Any other feature that's implemented by Google or Apple in their own service won't make it over to the other side unless it's added to the RCS protocol. At best, it could help Google retain the US-based Android users — especially teenagers — it hasn't yet lost to Apple.
However, no one is forcing Apple to change the bubble color of RCS chats to blue. It could very much keep that color exclusive to iMessage-to-iMessage chats to signal exclusive features, and that's the end of the conversation. Green-bubble perception wouldn't change, no matter how many typing indicators and read receipts you see in them.
The only solution for the bullying problem is for Apple to disable its color-coding, and that part has nothing to do with RCS support or not. It could happen if Apple released iMessage on Android, though. But that's not what Google is asking for, publicly.
That part is, frankly speaking, the one that baffles me most about this recent Google outcry. The company must be aware that there's a big disconnect between the argument it bounced on (green-bubble bullying) and the solution it's proposing (RCS). Why it keeps pushing for RCS is perplexing. Google should be aware that the RCS battle is all but lost everywhere except the US. It should also be aware that the US messaging perception isn't about RCS support, either.
So why the push for RCS? It must be because all of Google's eggs are in this basket now and doing another messaging turnabout would be laughably catastrophic.
["source=androidauthority"]