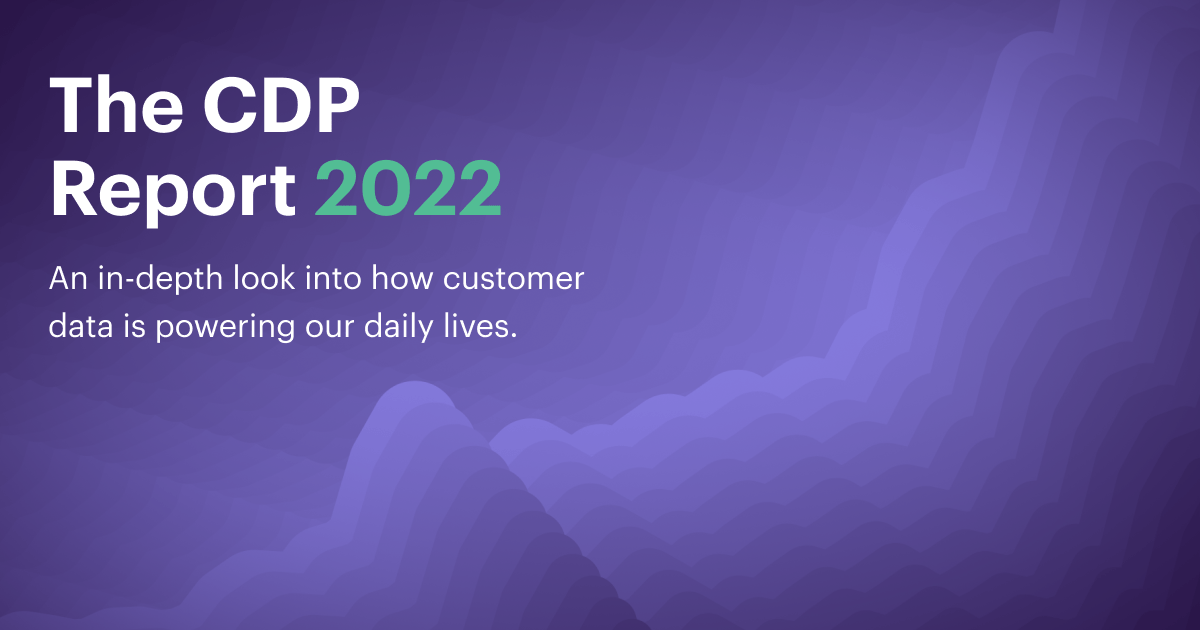 The CDP Report 2022: Another step forward for customer data platforms
Today, we're excited to share the findings of our third annual Customer Data Platform Report, our yearly deep-dive into how customer data is powering customer engagement across the world.
When we published the report last year, we predicted the pandemic would make customer data platforms (CDPs) an integral part of the modern tech stack for businesses of all kinds. We believed that as businesses began to make the vast majority of their customer interactions digital – whether that's online shopping, on-demand fitness, or virtual doctors' appointments – having a CDP would become table stakes.
Fast forward to 2022, and the tailwinds propelling CDPs forward have only gotten stronger.
The death knell has been rung for third-party data, triggered by regulators and technology giants. Across the globe, standards and restrictions on collecting, sharing, and processing data have become tighter. Apple and Google, which capture billions of customers and businesses within their ecosystems, have made moves to limit third-party tracking.
The message is clear: CDPs have become pivotal in the quest to uphold privacy while simultaneously making customer engagement more personal.
What 10 trillion data points tell us about customer engagement
To better understand the aggressive adoption of CDPs in the past 12 months, we turned to our customers to investigate how they're using the Twilio Segment platform.
Using over ten trillion aggregated and anonymized data points, we were able to get unparalleled insight into how businesses are harnessing customer data.
Here are a few of our findings:
Explosive growth in data volume. 2021 saw record numbers of API calls on the Segment platform. This volume was particularly concentrated around seasonal events like Black Friday weekend, which saw an astonishing 111 billion API calls pass through the Segment platform.
2021's fastest-growing apps. The top apps connected to the Segment platform provide a bird's eye view of what matters to companies today. It was a strong year for data warehousing tools like Snowflake (78% YoY growth) and Google BigQuery (56% YoY growth), as well as digital advertising tools, which are being connected to the Segment platform in record numbers.
The rise of first-party data: Triggered by regulators and technology giants, more and more companies are preparing for a world where first-party data takes top priority. Our reporting shows server-side data collection is accelerating, therefore helping businesses to improve data accuracy and data control.
Our report covers all of the above and much more, and reinforces a drum we've been beating for over a decade: that CDPs are the mission-critical piece of infrastructure for any digital-first business in 2022.
["source=segment"]