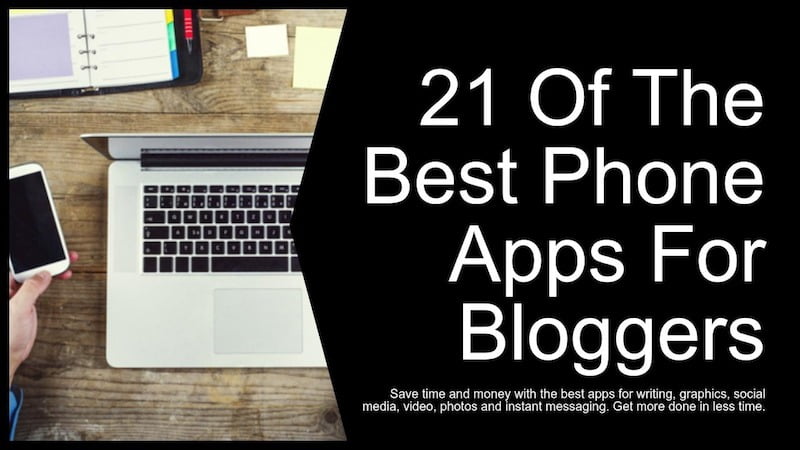 21 Of The Best Phone Apps For Bloggers
Apps that allow bloggers to blog more often, write better and track their website and social media success.
Blogging Apps that enable bloggers to manage their time better and get more done!
With technology changing, it is sometimes tough to keep up with all the new apps.
Plus smart phones quickly become obsolete and phone applications are constantly being updated.
In the end it becomes difficult to know which phone apps to keep and which to delete. This article will help!

The Best Phone Apps For Blogging

No 1 Blogging App: The IFTTT App

The IFTTT app (If This Then That) is an app that allows your apps — such as Instagram and GMail — to talk to one other. This process of talking too each other is called creating a RECIPE.
As good example of a recipe is when you can set it up so that all Instagram images are saved to DROPBOX. This is just one of many 'recipes' available. The IFTTT App is one of the most useful any blogger can own. For a more detailed look at IFTTT – check out: 20 ways the IFTTT app can streamline your life.
 No 

2 Blogging App: Buffer App
Buffer makes it super convenient to schedule (or reschedule) your social posts on the go. Great for Twitter, Facebook, Instagram, and Pinterest. I particularly like that you can add images directly from the URL. This saves you time because as an example you don't have to save an image to your phone and manually add it to each Tweet. This is a nice feature of the Buffer app because Tweets with images tend to cause more interaction. (download for iOS or android)
No 3 Blogging App: WordPress App

Allows you to do just about all the things you would normally do from your desktop. For example, draft a new post on your blog, review comments and track stats. (download for iOS or android)
4: Evernote App 
Let Evernote change the way you organize your personal and professional projects. Dive in: take notes, create to-do lists, and save things you find online into Evernote. This App will also sync everything between your phone, tablet, and computer automatically. For many bloggers this is a must have App! (download for iOS or android)
5: Aweber App

Use the AWeber app (download for iOS or android) to check the results of your auto-responder sequences and broadcasts when you are on the go. It's also very easy to see how many subscribers and unsubscribes you've recently gotten. There are no special functions to it, but the Aweber app just makes it very convenient to check your stats and it looks great.
6: 

Google Analytics App
Access all of your Google Analytics web and app data from your mobile device. Monitor recent changes with real time reports. Share reports to anyone. (download for iOS or android).

7: Pinterest App 
Discover, search and save great content from across the web. Use it for inspiration or practical ideas for everyday life. Use this app to save articles or ideas you wish to refer back to later. Also see: The Beginner's Guide to Seeing Massive Pinterest Traffic
8: Google Keep
Google Keep allows you to add and store notes, photos and audio. You can then organize everything you decide to keeo into easily-accessible labels with various colors for ease of finding later. A really clever and useful app!
In addition, there are note reminders and the ability to record a voice memo and have it transcribed by the app later. Google Keep for Android | Google Keep for iOS.
9: HubSpot Sales App

Formally called Sidekick and also called Sales for HubSpot (download for iOS or android)
This App allows you to build a library of personalized email templates & sales content that you can access right from your inbox. With the metrics the App provides you can see which email templates get the most opens and clicked. This allows you to share  the best approaches across your team.
It also offers great Social Media Integration. There is a Free Version and a CRM version.
10: Podcast Addict app 
This is a great app with which to manage all your podcast subscriptions. You can download episodes and make playlists which is awesome because that way you don't use any data when you are not connected to a Wi-Fi network. (available only for android)
11: MobileVOIP App
MobileVOIP is a free iPhone cheap calls app which lets you make (free) national or international mobile voip calls directly from your iPhone. (download for iOS or android or other phones). If you don't have an iPhone there are various plans available that will save you money on your Mobile Phone costs by simply installing the MobileVOIP app.

12: Instapaper App

Save all of the interesting articles, videos, cooking recipes, song lyrics, or whatever else you come across while browsing. With one click, Instapaper lets you save, read, and manage the things you find on the Internet.
This app allows you to post to Tumblr, Twitter, Facebook, Pinboard, Evernote, and many others, using accounts you've linked to Instapaper. Even if you create posts when you're offline, they'll be saved and automatically posted the next time you're online. One extra neat feature is that you can 'copy' a quote or part of a post as the text of say a Twitter Post and the app instantly produces a tweet that will post via your Twitter App. (download for iOS or android)

13: The Pocket App 
This is a very clever app, sort of like an online scrapbook. When you find something you want to view later, put it in Pocket. Put articles, videos or pretty much anything into Pocket. Save directly from your browser or from apps like Twitter, Flipboard, Pulse and Zite. You will wonder how you managed without it! (download for iOS or android)
14: The Instagram App 
Recommended Image Tool – Instasize – create visually engaging photos and videos to grow your social audience on Instagram, Facebook, Pinterest and Twitter. You can also create videos on mobile with Instasize filters and editing tools.  The free version is pretty impressive, but if you want to take advantage of all the filters, there is a monthly subscription.

15: The Cloze App
Cloze automatically keeps track of your email, phone calls, meetings, documents, Evernote, LinkedIn, Facebook and Twitter. And everything from dozens of other services. It's all organized for you — by contact, company, meeting, etc. It will also grab email signatures so your contacts are always up-to-date. It can also send you reminders of how long ago was your last email or when you were supposed to follow up. (download for iOS or android)
16: The Slack App 
The ultimate productivity app – used by many, including Josh Dunlop. Team communication becomes a lot easier with this app. You can upload documents and keep everyone on your team in the know. A new way to get more done, spend less time in meetings, and reduce email. That's Slack. (download for iOS or android) your desired device).

17: The Google Hangouts App 
Use Hangouts to keep in touch. Message friends, start free video or voice calls, and hop on a conversation with one person or a group. (download for iOS or android or Windows phone) 
18: The MagicJack app 
Don't pay for a separate phone or service. Just download magicApp to your existing mobile. You can even add a new business number! In your retail office, home office or on-the-go, magicApp keeps you connected. (download for iOS or android)

19: The Adobe Photoshop Sketch App 
Create expressive drawings anywhere with Adobe Photoshop Sketch, the iPad app that lets you use natural drawing tools like pencils, pens, markers and watercolor brushes to get all the textures and blending effects you'd get on paper. (download for iPhone, iPad and iPadPro) – Touch-up and create images.
20: ColorNote

This app allows you to quickly jot down blog post ideas, make checklists, and write a few hundred words easily, regardless of where you are. (download for android).
21: Wunderlist App
Wunderlist is a simple to-do list and task manager app that helps you get stuff done. Whether you're sharing a grocery list with a loved one, working on a project, or planning a vacation, Wunderlist makes it easy to capture, share and complete your to-dos. Wunderlist instantly syncs between your phone, tablet and computer. (download for iOS or android) You can get Wunderlist for many other devices, too. Choose your device here.
Additional Blogging Apps and Business Resources
Recently I came across the article 27 Time-Sucking Blog Tasks You Can Outsource. Although it does not speak directly about phone apps, it does give you a wide range of tools you can use (or even outsource) to help you with your blogging and business needs.
["source=incomediary"]